Bowden Loch - 2 Acres
Bowden Loch is about 2 acres in area, and can see the approximate depths of each part of the loch by moving your mouse pointer over the aerial view.
This loch is fly only, and can be fished with both imitative and lure patterns.

There is an excellent range of invertebrates in the loch, including Caddis, Damsels and buzzers,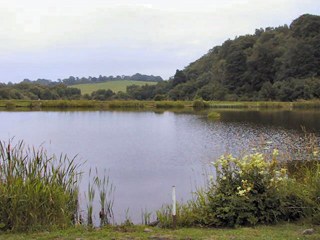 as well a a healthy population of Sticklebacks!
At the South end of the loch there are two spring fed streams entering at each corner - these often prove to be popular spots for fish to feed on items being washed into the loch from the streams, although fish also regularly patrol the perimeter of the loch, often seen rising in the margins on warmer days when there are plenty of hatching nymphs or buzzers about.
The loch is stocked with quality Blue and Rainbow Trout to double figures, - have a look at the Gallery page to see some that have been caught!