Tackle Shop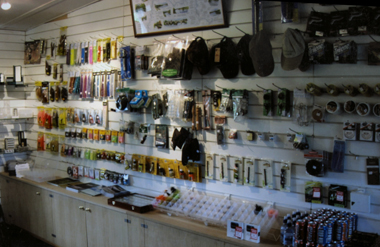 Bowden Springs has a spacious and well-stocked tackle shop at the fishery, complete with all the angling essentials including snacks!
In addition to the usual selection of flies and line (ideal for those times when you are sure you had put that spare spool of nylon in the bag....), the shop also offers a wide selection of rods, fly reels and fixed spool reels from a range of leading manufacturers. There is even an opportunity to "try before you buy" with some of our rods.
We also have a varied stock of quality second-hand and vintage rods.
We stock a wide range of fly tying materials and accessories, - and if we don't have it in stock, we can usually order it in within a few days.
Fly boxes, gadgets, floats, weights, baits, hats, vests, outdoor clothing, crisps and chocolate bars can also be found here!
Permits for the fishery are also dealt with at the shop, so please call in when you arrive at the fishery.
No, there are no pike swimming about at bowden, but there are planty of the inimitable Zalt pike luers in the Tackle Shop....
Tried and tested against the enormous salt water pike of the Baltic, these world famous lures, twinned with the surface acting Zam, are available at a special introductory price of £25 for 3.